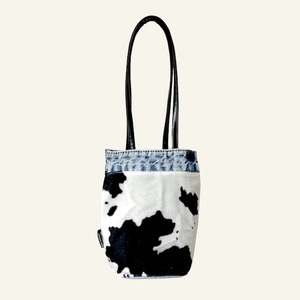 Rework Docking Hand Bag
The up-cycle denim hand bag


One of a kind and handmade with love.
Combined by more than 2 USED denim pieces, all handmade after the order is placed.

The actual color and design may be different from the images because this materials are all different pieces.

Please note that this item is handmade and made by USED denim pieces.
(Carefully washed before we make it.)





【Size details(Flat Placed Measurements / 平置き) 】
Height 9.5cm / Rounded bottom 11cm / Strap 45cm



【How to Care】
・Hand wash recommended
・No chlorine bleach
・Dry cleaning recommended
・No machine drying



Our jeans are manufactured environmentally friendly from the viewpoint of environmental conversation, and contained in waste materials of used industrial products and effectively utilizing the waste materials.
*Tax included.
*Additional shipping charges may apply, See detail..
About shipping fees
The shipping fee for this item varies by the shipping method. Customers can choose the shipping method at time of purchase.
Yamato Transport

Your delivery status can be checked online.

Shipping Fees are the same all over country inside Japan ¥1,000
EMS

This shipping supports package tracking and compensation for damages.

Shipping Fees are the same in all countries outside Japan ¥3,000
*Japan domestic shipping fees for purchases over ¥20,000 will be free.